72Point has been ranked as one of the fastest growing PR agencies in the country following another stellar financial year.
Continuing to deliver quality campaigns for our clients on a consistent basis 72Point went from strength-to-strength last year, adding to and refining our wealth of services as well as expanding as an organisation and reaching a number of important milestones along the way.
We ranked as the ninth fastest growing PR agency in the recent PRWeek listings, epitomising the dynamic year we've had. And we don't plan on slowing down any time soon. This achievement is down to a number of crucial innovations we have made to enhance our team and ensure we are able to expertly provide creative solutions to some of the nation's biggest brands, with our team members showing a commitment to constantly innovate, evolve and adapt to an ever-changing media landscape.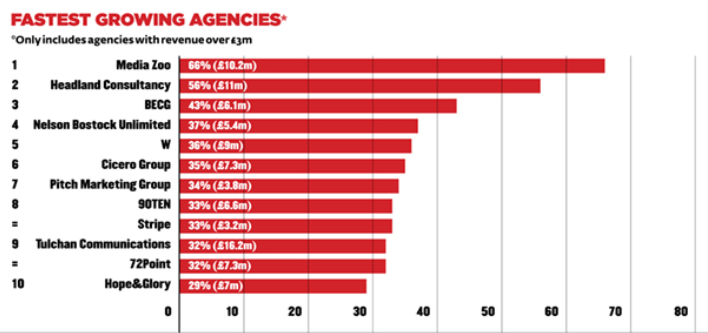 We also jumped up five places on the consumer PR agency rankings from 19th to 14th on PRWeek's B2C benchmark, cementing our position as one of the nation's leading providers of engaging market-leading stories. We specialise in connecting brands to the audiences that matter the most to them, with unrivalled knowledge of the best platforms to reach them. Take a look at some of our work here.
When it comes to the overall PRWeek Top 150 list, we've climbed 6 places into the top 50 to number 48. News generation has this year stepped out of the shadows to become an increasingly valued PR discipline, with 72Point uniquely poised to deliver campaigns that cut-through media noise and tap into the news agenda.
2019 is already off to a flying start, with the team celebrating our first major award win, scooping the PRCA In-House Digital Team of the Year Award and getting the ball rolling with smashing campaigns for clients including Volkswagen, Sky Mobile and Lyst.
We're all looking forward to another action-packed year with many more achievements to come!
Contact us
Call: 0207 138 3041
Email: hello@72point.com
View our credentials